Over years, Indian handcrafted textiles are booming up and filling the air with their long-lost charm. Indian handcrafts- that had faced a major decline post-independence are now making their space in the all-machine-operated world. People are accepting the beauty and uniqueness of handicrafts with open arms and are taking pride in owning a piece.
Paithani- a native craft of Maharashtra, once flourished in the market. Indian history states its favored position from the Satvahana dynasty two thousand years ago to the Mughal era when Aurangzeb ruled. The peshwas also favored it and it became to be known as the fabric of the royals. Post-independence, Paithani started losing its market due to industrialization and its weavers dwindled in numbers.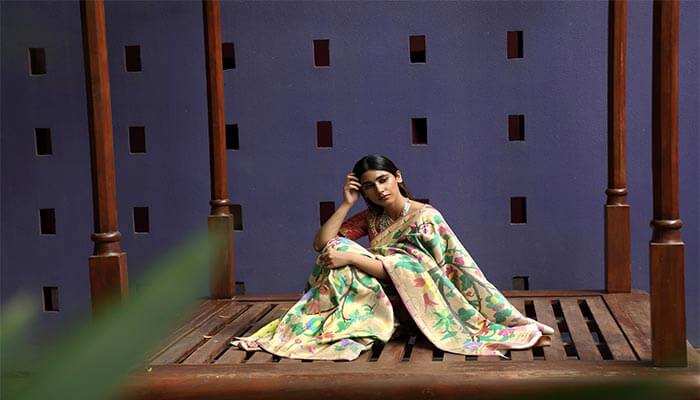 A few years ago, an active step was taken by the government to revive the ancient dying crafts to save the heritage and cultural representation of the country and provide a livelihood to the makers. Paithani was one of them. Earlier, Paithani was woven on a cotton base as well as a silk base along with zari. Now seeing its craftsmanship and value, the craft has gained its popularity on a silk and zari base entirely. Gold and silver zari was commonly used.
Nowadays, to give more options, zari in different shades are available too, but silver and gold remain the classics.
Initially, when Paithani was made, the saree had only an elaborate border with a plain body or with butis scattered throughout the body of the saree at specific intervals of spacing. But, to revive the craft, design intervention had to be done, and therefore now, Paithani is available in various designs of overall jaal.
Due to its location in the vicinity of Ajanta caves, the influence of Buddhist designs could be seen in the motifs like lotus, asavalli, hans (swan), etc. These days we can see that Paithani has grown to nest a variety of motifs and design intervention and experimentation due to its design creation versatility like the tree of life, landscapes, jungle, and various other flowers apart from the traditional motifs are also used as motifs. Different colored zari and two shades of zari are used in the same saree. These explorations are giving Paithani a new face keeping intact its demand and luxurious feel.
Paithani is now not only limited to sarees but also is seen in dupattas and lehengas. Paithani lehengas in India were not a common commodity earlier but now have taken to amaze and interest in the minds of the wearer. Full jaal dupattas or broad borders, both make a statement when paired with a banarasi or a pathani lehenga. Pairing Paithani with other crafts is also trending. For an instance, a Paithani appliqued organza lehenga can be paired up with a chikankari dupatta with a Paithani brocade muniya border and a delicately hand-embroidered blouse.
Asha Gautam patronizes Paithani and is making successful efforts in reviving the craft and delivering its clients the ecstasy of luxury and exclusivity which they crave for. Mixing and matching Paithani with other crafts and producing a new and exciting range of products for their clients is what Asha Gautam strives for. The originality of design in Asha Gautam makes the lehengas here the exclusive Paithani lehengas in India.