When it comes to handmade textiles, no country can keep up with the rich heritage of craftsmanship of India that dates back more than 2,000 years. Likewise, Paithani sarees have always been in the limelight during occasions and important ceremonies since time immemorial. This precious silk was used to decorate the monarchs of the period in numerous palaces in earlier times. It was a delight of the ancient era's queens and princesses, who were in charge of bringing silk into the spotlight.
The rich weaves with the essence of nature in alluring colors intermingled with the shine of the silk make it difficult for it to be suited for any other category but occasion wear or weddings. Hence, This antique piece of art is mostly endorsed by celebrities and contrived by designers as an occasion wear essential.
Even today, Maharashtrian women use the Paithani silk threads to transmit the strength and endurance of their forefathers. Every beholder can tell it's a touch of royalty because of the gold and silver that connect through the weaves. This saree, unlike other silk sarees, retains its quality even after years of use. This is the reason why Paithani Sarees are passed through generations in the families of Maharashtra and is a part of every festivity. When a Marathi woman marries, she treats her Paithani saree as if it were gold. In this portion of India, including Gujarat, they are a staple of every bridal trousseau. That includes actresses like Kajol and Genelia, who are claimed to have married in luxury Paithani sarees.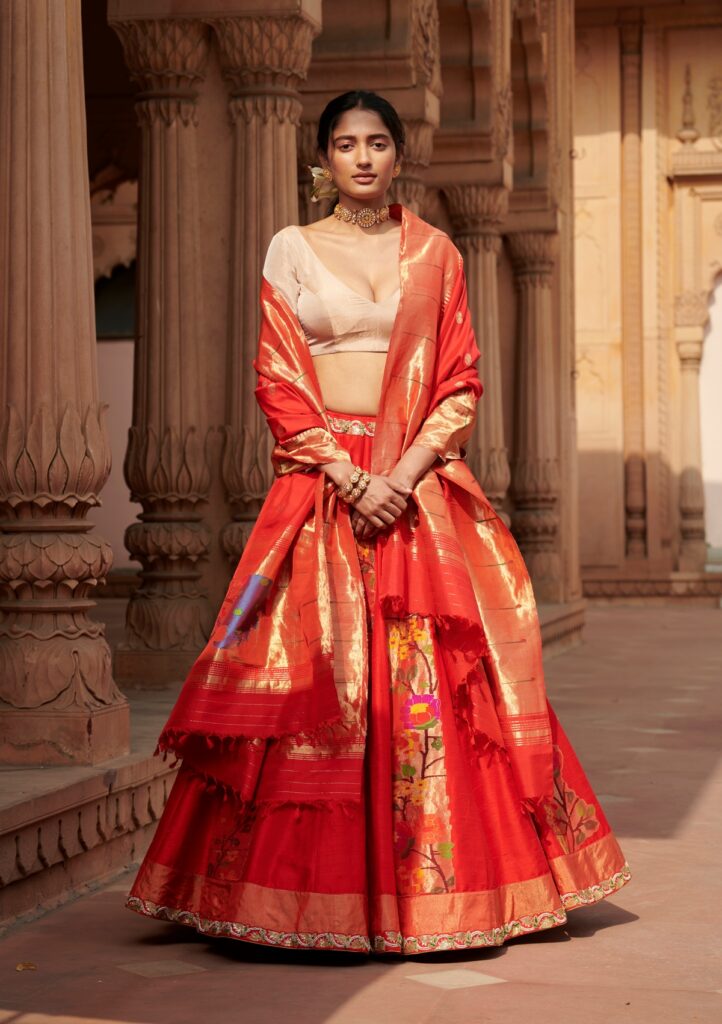 As for other parts of India is concerned the beauty of this treasure is a little less-known. India has no shortage of festivities like Durgapuja, Diwali, Holi, and so on. This Saree is indeed a great choice to adorn for each of these high-spirited festivities. When paired with a beautiful blouse it will only uplift the spirit of these festivals.
Innovation in terms of design and colors is happening in the handlooms sector. So there is more choice for those opting to wear Paithani in a contemporary style these days even for festivals or occasions. When styled with a modish blouse in an attractive draping style any individual will be in the limelight. This weaving technique has been introduced in lehenga sets to kurtas and sarees for festive occasion wear,  in a variety of tints and tones with each piece telling a different story through the use of its motifs, created in collaboration with craftspeople and artisanal clusters from across India.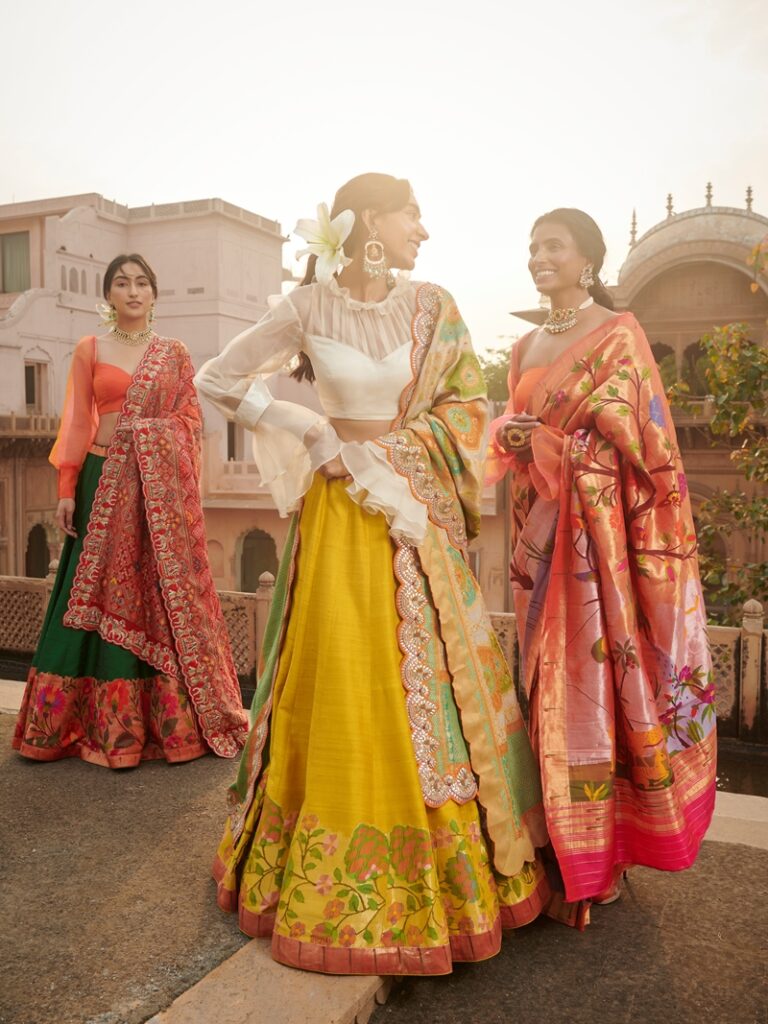 Paithani Saris are classics. Trends will come and go, but a piece of the Paithani is timeless, a heritage that is rare.
People will love to see you draped in this beautiful saree in silk with its extravagant border, pallu with big beautiful patterns that have different textures. When contrasted with designer embellishments in its blouse the overall look will come out even better. The protruding motifs in silk, the astonishing zari work, the kaleidoscopic use of colors are good bets to grab eyeballs. If you love to wear Indian outfits, go for a floor-length lehenga, and ghagras with well-designed Kurtis or cholis.