In order to sustain in the contemporary world, like any other handloom, even Paithani weaving has adapted to different cultural influences through various designers and artists. When the material is concerned, Paithani has progressed from cotton to a silk base over time. The weft patterns and borders were made of silk, while the body of the fabric was made of cotton. The Paithani sari does not contain any cotton in present variants.
Although it is difficult to convince the weavers to shift from what they traditionally made in Paithani weaving, a few of the designers still found a way around it by implementing it with checks and stripes in pastel shades adding a classic essence to it. Apart from that the intricacy and the complexity of the designs have also been revived in order to cut costs and time.
One of the prominent changes in Paithani borders is that weavers have moved away from small borders towards larger ones, modifying the contour of the sari and allowing it to contain a wider range of designs, including those imported from other regions. The interlocking weft technique is used to produce the borders, which are made of colored silk or zari. Ground colored silk designs are placed as additional weft inlay against the zari in the zari border, usually in the form of bloom or a creeping vine.
Presently, Paithani borders are distinguished by their luxury and golden colored thread work finery on patch borders that resemble a golden carpet due to their fine and close weaving. There are salwar kameez that have such gorgeous Paithani work borders that they have a huge appeal. Only zari warp strands create a golden ground over which angular, brilliantly colored silk motifs are weaved in the interlaced weft to create a tapestry impression.
A lot of experiments have also been done with the tints and tones of this saree. A Paithani was traditionally done in purple, yellow, crimson, pink, and bottle green. But now it is also found in blues, mauves, greys, and pastels. The modern Paithani color-scape is stunning, with striking numbers in chocolate brown with gold zari weft. The most transition in the color scape is seen with Violet warp with gold zari weft and pink flowers, as well as navy blue with the silver weft, are included in the new color palette.
The motifs of Paithani Saree have also gone through a revival over the years. For example, the Bangle Peacock (Bangadi Mor) was delicate to the level that a 3″ bangle consisted of around 36 elements including 4 peacocks and a central flower. As time elapsed, changes and eliminations either due to cost or the work involved, elements as low as 10 are weaved today. Sandwiched
between parrots, peacocks, stars, and as a wali besides flowering vine and lotuses, some borders are 6″ to 18″. In the last 100 years, not a single true Bangadi-Mor has been woven. Presently, the motifs which are mostly woven include creatures like Duck, Deer, Monkey, Flamingo, and Toco Toucan. Apart from that inspiration is also withdrawn from nature like lotus leaves, deodar trees, and landscapes like forests, mountains, lakes are implemented artistically through the weaving process. What is making these sarees even more aesthetic is the way these motifs are intermingled with contrasting and monochromatic shades like pink, green, yellow, magenta, and beige along with gold and silver zari.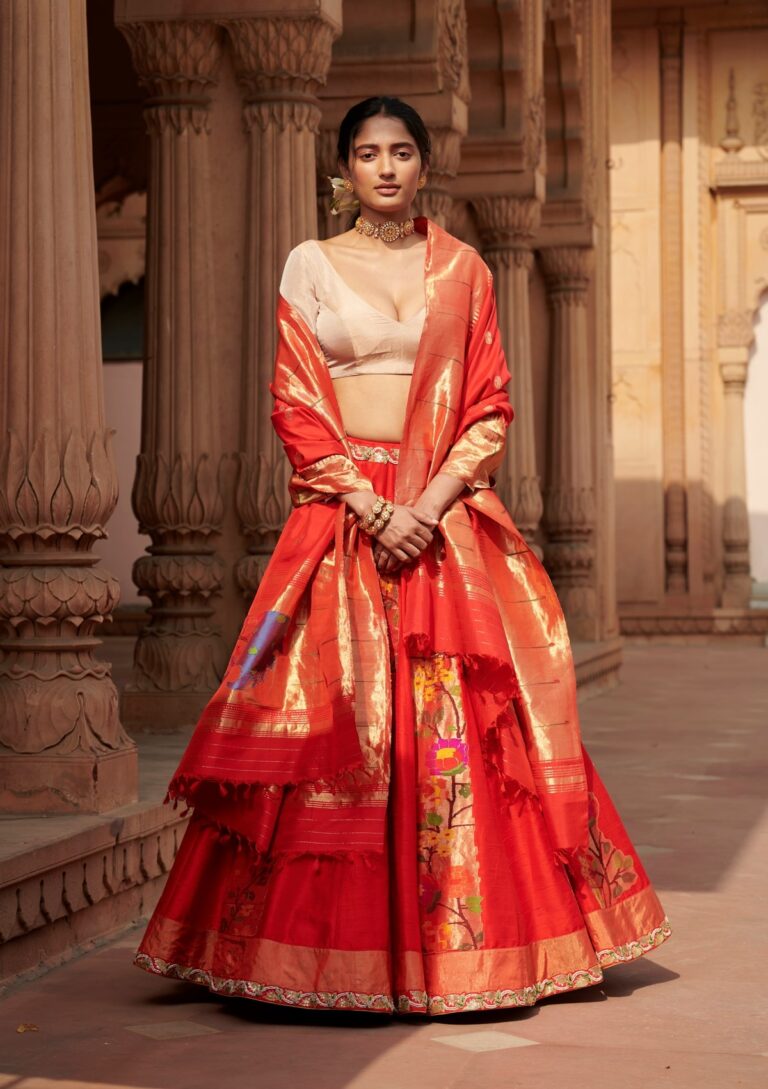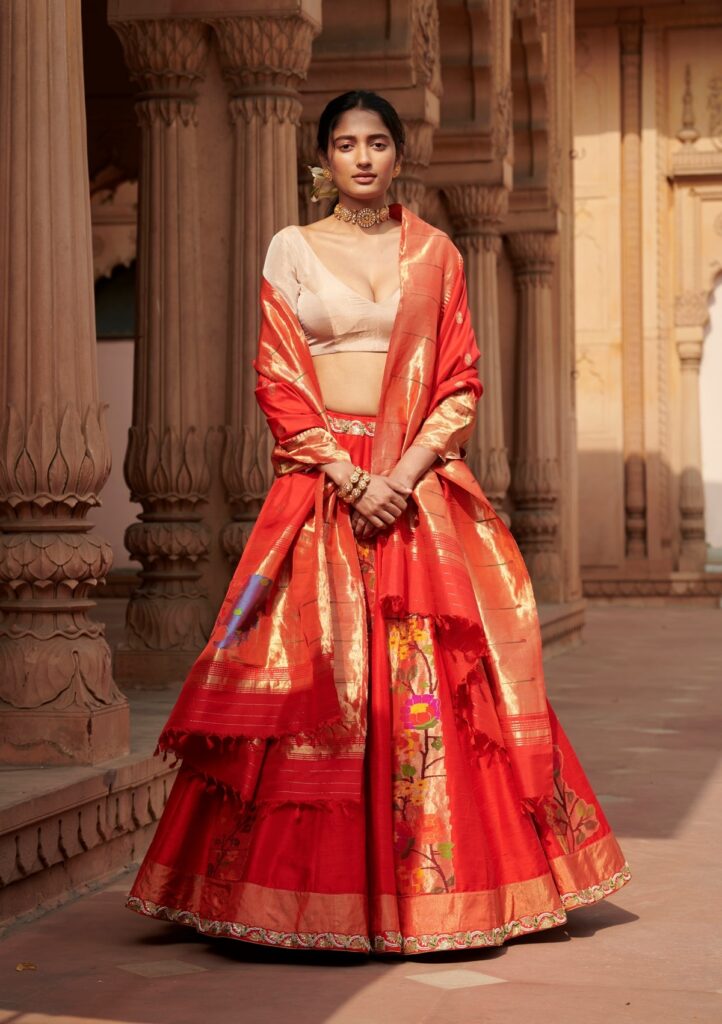 As modern brides discover new ways to embrace their origins, this heritage weave has been given a modern twist over the years. One of the prominent silhouettes which are highly used with this illustrative textile is are the lehengas especially paired with a trendy blouse made out of organza fabrics. As with the sarees, the pleats on the sides are usually tucked in, and the extra length is draped around the neck like a dupatta. Swapping the traditional blouse for white shirts and jackets, well-cut tank tops, or a T-shirt for the pre-wedding festivities are some more creative ways to wear this sari.
Paithani sarees are canvases for the weavers who make them. No two sarees can look alike, just like a painting. With every play of color, or experiment with material or revival of the motifs a new life is given to this craft. This will not only bring a bigger market for this cherished legacy but also help the art survive in this fast-paced contemporary world.