Wedding finery is the work of dozens of pairs of skilled eyes and hands with perhaps hundreds of hours of labour work. Millennials across the country today in the post pandemic era – are reigning over the territory of tradition Indian fashion like never before. The idea of time in weaves and crafts is now so deeply engraved that it has become a sign of prerogative for the younger fashion consumer which is why traditional wedding finery is undergoing a contemporary microscope and heading towards change. Wondering how you can combine the two? Here are 5 ways to add a modern twist to your traditional heirloom-like ensembles.
Team a traditional paithani lehnga with an organza tulle blouse – worn as a crop top. The peek-a-bow effect of organza adds a contemporary touch to it.
Belt up the look for more structure. If you are wearing a monotone lehenga then a leather or pearl encrusted belt can add colour and break the look. A leather belt will give a modern twist to the look, a help give you an illusion of height.
A bandhani lehnga can be worn with a printed crop top and layered with a solid colour blazer with some kundan or polka jewellery. If you are a bridesmaid then this is the perfect look for you.
Contrasting colours in one look can add a contemporary touch to the entire look. Amalgamate pinks with purples, greens with blue or orange and yellows with pinks or hues of crimson.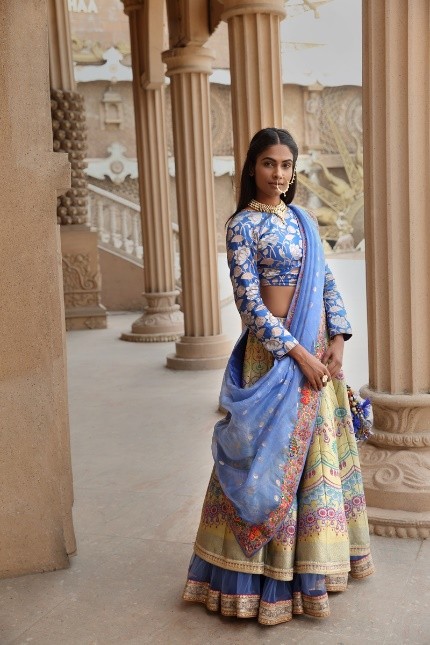 Don't be afraid to mix motifs and prints. We usually stick to one solid colour blouse if the lehenga is in silk with bold motifs. You can mix florals with florals or florals with chevron or abstract prints. Make sure you go minimal on the jewellery with his look.